Image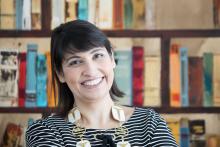 Paula Franco
Paula Franco was born on September 29, 1969, in Lisbon. She is a certified accountant, tax consultant and trainer. She owns an accountancy and tax consultancy SME and has been the President of Ordem dos Contabilistas Certificados (Portugal) since 2018.
She is the author of technical opinions and various articles published in various media. She has been an interlocutor in clarification sessions and seminars on taxation and accounting in Portugal and all over the world.
She is also a member of expert groups from international organizations such as EFAA, FCM and CILEA. In the latter organization, she holds one of the vice-presidencies and she imported the best practices and international contributions to the profession in Portugal. She is president of the Portuguese-speaking Union of Accountants and Auditors (UCALP), created in 2019.