Image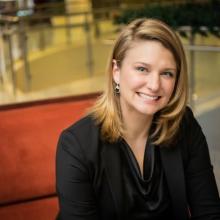 Gabriella Kusz MBA, MPP, CPA, CGMA
Gabriella Kusz was a principal, Strategic Initiatives, at IFAC where she supported accountancy's leadership and innovation in the digital era.
Gabriella also serves as board director at the Global Digital Asset and Cryptocurrency Association, a global voluntary self-regulatory association for the industry where she supports awareness building and education. She also serves as a Distinguished Global Expert for the Global Small and Medium Enterprise Policy Network at Prince Sultan University (Riyadh, Saudi Arabia), as an advisor to the Banque Saudi Fransi / PSU Global Islamic Finance, Tax and Zakat Centre, and as deputy chair of the Government Blockchain Association Regulator Working Group.
Prior to joining IFAC, Gabriella worked with the World Bank Group Governance Global Practice where she was responsible for leading the Corporate Governance and Financial Reporting workstream for the Middle East and North Africa region.
Gabriella is a licensed US CPA (Virginia) and CGMA and holds AICPA Certificates in IFRS as well as the Global Reporting Initiative Certificate in Sustainability Reporting Standards. She holds a Master's in Public Policy (International Policy and Development) from Georgetown University and a Master's in Business Administration and Bachelor of Accounting from the University of Dayton.