Image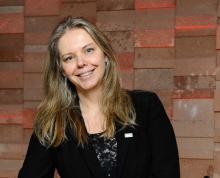 Monica Foerster
Partner at Confidor, Chair of IFAC's SMP Advisory Group
Monica Foerster became Chair of the IFAC SMP Advisory Group (SMPAG) in 2017, after serving as its Deputy Chair. A SMPAG member since 2014, she was nominated by Conselho Federal de Contabilidade (CFC) and Instituto dos Auditores Independentes do Brasil (IBRACON). With 20 years of experience in the accountancy profession, Ms. Foerster is a partner at Confidor, an accounting, tax, and law firm with offices in Porto Alegre and São Paulo, Brazil.
Monica is currently a member of the Board of Directors of Ibracon Brazil (where she was the SMP Director and coordinator of the SMP Working Group for 6 years), and a board member at the Accounting Council (where she was also the coordinator of the Committee of Audit Studies (CRCRS) for 4 years. 
Monica holds an MBA in financial management, controllership and audit from the FGV – Fundação Getúlio Vargas, Brazil, and a degree in accounting from the Universidade Federal do Rio Grande do Sul – UFRGS, Brazil.