A growing, global demand for sustainability—in society, in public and private organizations, and on our planet—has fueled demand for enhancing corporate reporting. For investors and sustainability-minded stakeholders to assess a company's future performance, they need a clear and comprehensive picture of the ability to create sustainability value over time.
IFAC is dedicating our second annual virtual summit to sustainability and helping professional accountants do different things with the skills and competencies they already have in their toolbox.
Our three-day summit in October will focus on the demand for organizations to act and the needs and perspectives of investors, regulators and public interest entities. It features speakers with global expertise in sustainability, environmental, social, and governance (ESG), integrated and sustainability reporting, sustainability-related investor needs, and more. It will help professional accountants, and the professional accountancy organizations that support them, understand—and take action to meet—growing demands for sustainability services from the public and private sector.
Available in English, French, Russian and Spanish
Keynotes and sessions will include live interpretation in French, Russian, and Spanish. Video recordings for sessions will also be available on the IFAC website following the event.
Image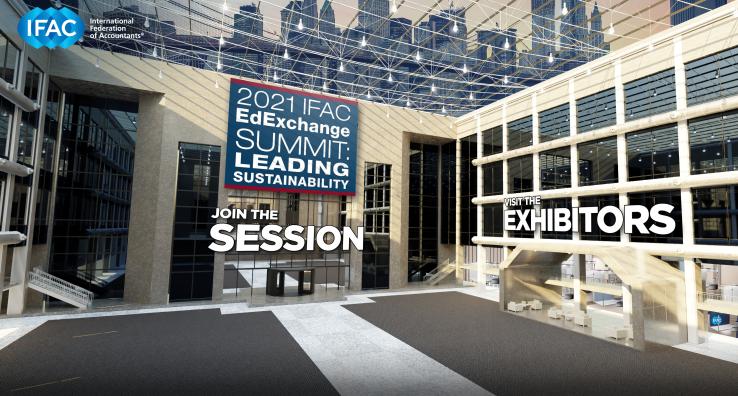 New Platform: So Much More than Zoom
Taking advantage of the virtual world, this year's summit will take a place in a new platform built for virtual conferences by the American Accounting Association. The platform features an exhibit hall available 24 hours a day, conference chat function, speaker backgrounds and Zoom integration. Keynotes and sessions will also include live interpretation in French, Russian, and Spanish. Video recordings for sessions will also be available on the IFAC website following the event.
Registration: An Extra Step but Worth It
Leveraging this new platform requires registrants create an account (including Username and Password) to provide the necessary event registration information for the event and to enter the platform. This access and your new Username and Password allow you to enter the platform and visit exhibit booths outside of the event sessions, and for a short period after the Summit, and chat with other registrants. Your contact information will only be used for the summit and will be deleted by the AAA following the event. For additional information on how to register, see the IFAC EdExchange Registration Guide. Please contact info@aaahq.org with registration questions and education@ifac.org with any other questions.
Agenda
Tuesday, October 12: The Demand for Organizations to Act

8:00 am EST-10:15 am EST
Keynote speakers: Helle Bank Jorgensen, Leading with Purpose: Sustainability's Opportunities and Challenges, and Mirtha Kastrapeli, The Changing Needs of the Investor
Case study: Forico, From an Idea Seed to Valuing Sustainability Forestry

Wednesday, October 13: Where and How to Start

8:00 am EST-10:45 am EST
Panel: Expectations within an Organization, featuring speakers including a Fastly and Robinhood Markets board member, the Future Generations Commissioner of Wales, Korn Ferry (global recruiter), and The Luxury Network (Singapore)
Case study: KPMG, The Crucial Role of Accountants in Tackling the Climate Crisis
Case study: Black Sun PLC, Counting What Counts

Thursday, October 14: Assured Sustainability and a Sustainable Profession

8:00 am EST-11:00 am EST
Panel: The Role of the Auditor: Expectations of Audit Institutions and Regulators, featuring speakers from the African Organization of Supreme Audit Institutions - English Speaking (AFROSAI-E) and the Independent Regulatory Board for Auditors (South Africa)
Panel: Ensuring A Long-Term Sustainable Profession: The Impact to Future Generations, featuring speakers from Dublin City University, KPI, and Messer Americas
IFAC's recent sustainability initiatives, including The State of Play in Sustainability Assurance
Helle Bank Jorgensen, Founder and CEO, Competent Boards, kicks off our 2021 EdExchange Summit by bringing to life her experiences and reflections of the expectations of the accountancy profession in sustainability-related services by those charged with governance. Helle is a strategic and visionary director and tech entrepreneur with a 30-year track record in turning environment, social, governance (ESG), climate and sustainability risks into innovative and profitable business opportunities. A former PwC audit and advisory partner in Denmark and the US leading Sustainability & Climate Practices, Helle is also the creator of the world's first Green Account and Integrated Report.
Investors have always been a primary user of information prepared and assured by the accountancy profession. However, as considerations change for how investment funds are allocated to account for emerging environmental, social, and governance (ESG) risks and, to some, achieve new sustainability objectives, the information required to do so also changes. Mirtha Kastrapeli, Founder and CEO, Beyond Alpha, and Fellow at Colombia University's Center on Sustainable Investment, discusses accountants' role in meeting these changing needs. 
Rayne van den Berg, CFO, Forico, comes together with Mark Gough, CEO, Capitals Coalition, and Julia Bilyanski, Partner, KPMG, to demonstrate how the idea of valuing an organization's natural capital can come to fruition in an assured natural capital report that values Forico's Net Natural Capital at AU$3.37 billion.
IFAC CFO Russell Guthrie will moderate a panel of organizational leaders on their expectations of the accountants within the organizations they lead, serve or are charged with governing, including examples from their own experience on the skills and competencies needed to lead sustainability initiatives.

Moderated by Russell Guthrie, CFO, International Federation of Accountants

Panelists:
Shelly Fust, Senior Client Partner and Sustainability Practice Lead, Korn Ferry

Irene Ho, CEO, The Luxury Network Singapore

Sophie Howe, Future Generations Commissioner for Wales

Paula Loop, Board Member, Fastly and Robinhood Markets
Simon Weaver, Partner, KPMG, and head of KPMG's climate risk and decarbonisation strategy team, details how he developed teams and processes within organizations and within his own firm to meet the climate reporting needs of today's stakeholder.
Throughout the Summit, you will hear about the need for the accountancy profession to play a leading role in sustainability related services for many stakeholders. Identifying relevant and transparent disclosures has long been a foundational skill in our toolkit but we now have more users to consider. Uantchern Loh, Chief Storyteller, Black Sun PLC, helps bring together how professional accountants can leverage their skills to balance the needs of a broadening base of stakeholders who want to understand how organizations are addressing sustainability risks to the organization and to society.
Continuing the conversation with the accountancy profession's stakeholders, this session brings together audit institution and regulator representatives. Moderated by Professor Chiara Mio, an IFAC Board Member, learn from members of the African Organization of Supreme Audit Institutions - English Speaking (AFROSAI-E) and the Independent Regulatory Board for Auditors (South Africa) on their expectations for the sustainability journey the profession should embark upon.
Moderated by Chiara Mio, IFAC Board Member and Professor at Ca' Foscari State University of Venezia
Panelists:
Nancy Gathungu, Auditor-General of the Republic of Kenya and Vice Chairperson of the African Organization of Supreme Audit Institutions - English Speaking
Nadine Kater, Director, Education and Transformation, Independent Regulatory Board for Auditors
Moderated by Nick McGuigan, hear from leaders in the accountancy professions on sustainability and the need for the profession to act—and why acting on climate and diversity-related matters will help transform accountancy into a long-term sustainable profession. Speakers will discuss their experiences leveraging skills and competencies to advance climate and diversity. In addition, panelists will address how a profession that is over 100 years old can transform into a profession that attracts future talent that can put the same skills and competencies to use in different ways in the interest of the public.
Moderated by: Nick McGuigan, Director Equity, Diversity & Social Inclusion, Monash Business School (Australia)
Panelists:
Caroline McGroary, Lecturer in Accounting, Dublin City University
Rochelle Moras, Audit Associate, KPI
Gareth Parkin, CFO and Senior Vice President, Messer Americas
As part of IFAC's focus on sustainability, IFAC and AICPA-CIMA released a sustainability assurance benchmarking study in June 2021 that provides a comprehensive overview of global status. IFAC Public Policy & Regulation directors Scott Hanson and David Madon present the study's findings and the next steps IFAC is encouraging professional accountants take.
Exhibitor Booths

The 2021 EdExchange summit will include an exhibit hall open 24 hrs a day. Many booths will be staff during conference breaks.
Why Accountants?
Professional accountants and the accountancy profession need to play key roles—we are the right people to serve the public interest in developing and executing sustainability-related processes and reporting. We have the necessary skills and competencies: many of the skills and competencies required to effectively use sustainability standards and frameworks are already in today's professional accountant's toolkit.
Our background and experience with financial and, frequently, non-financial reporting means we already know how to:
Understand and report information that is transparent, relevant, and meaningful to a user.
Understand and apply appropriate guidance to transactions and reporting.
Determine and use appropriate measures of materiality.
Evaluate impact of guidance to transactions, trends and strategy.
Understand, develop, and execute processes to extract, synthesize and interpret complete and accurate data.
Develop, implement, execute against or evaluate an internal control system necessary to prepare or assure an organization's information.
Collaborate with other departments.
Interested in More?
Looking to get ready for the 2021 IFAC EdExchange Summit? Check out some of IFAC's recent sustainability-related initiatives and materials.